Overview
Visually communicate the four part journey customers take through the space and articulate key tasks in each space.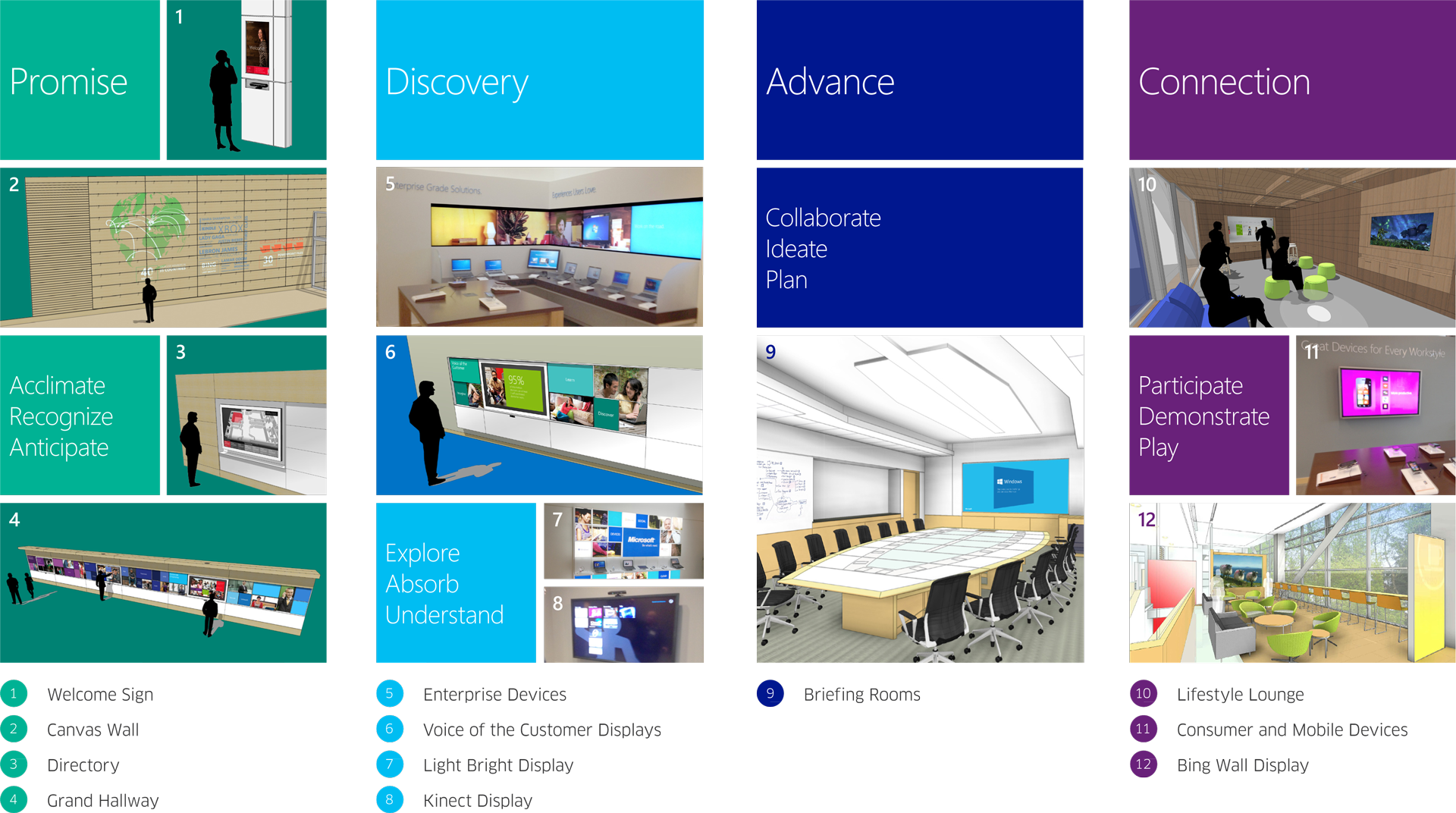 Challenge: Design an ecosystem of 6 custom B2B software platforms across a large briefing center event facility.

Process: Led the effort to refine the designs, gain approvals, wireframe key interactions, diagram the user flows, map the content, and build out the hand-off production package for the developers.

Outcome: A bid package that a third-party development team could execute with. The program was well received and was awarded ABPM 2014 World Class Center.
---
Grand Hallway
High fidelity styleframes gain stakeholder confidence by addressing content flow, media needs, and brand compliance.
Challenge: Activate a hallway with digital and graphic panels to showcase Research, Partners, and Corporate Social Responsibility.

Process: Visual decks for workshops, design iterations, wireframes, back-end requirements, and content requirements.

Outcome: Our team produced hand-off technical documentation that a third party used to build the apps and populate the environmental graphic panels for the hallway.
Conversation starters, questions and stats attract users to interact, then stories reveal themselves with navigation to related stories.
---
Design Office: Downstream
Design Principal: Tim Larson
Design Lead for final phase: Tim Moraitis
Design Director: Brian James
Designers: Tim Moraitis, Kevin Chao, J Swanson, Zurine Gurpegi
Experience Designer: Megan Hansen
Technology Directors: Sean Fitzgerald, Trent Hays
Project Manager: Jon Alfred
Award: ABPM 2014 World Class Center